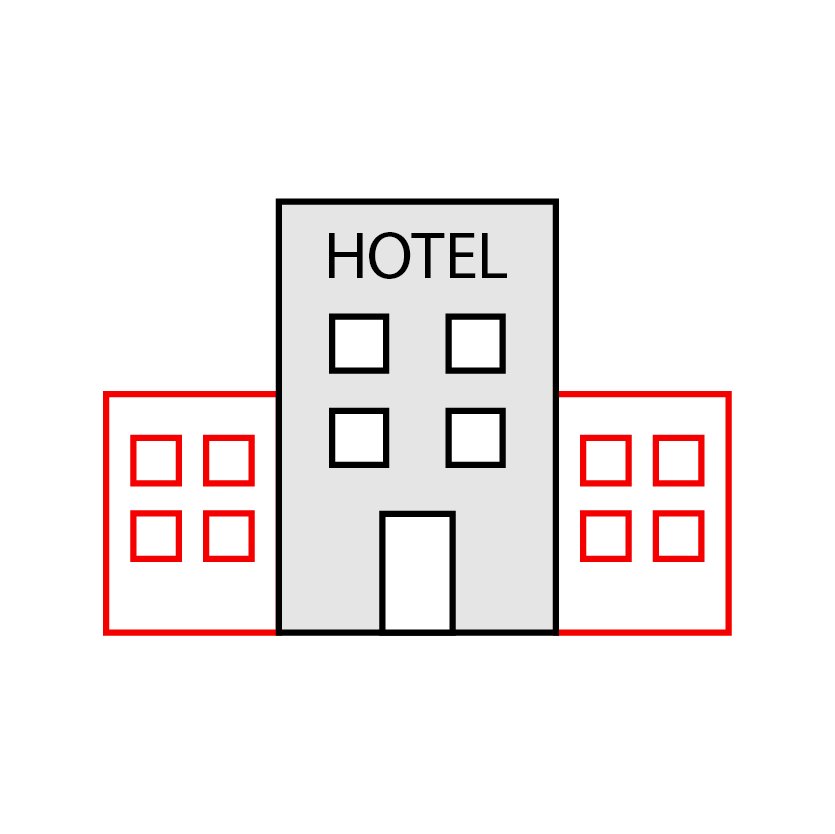 In the Hotel sector, one of the major pylons of the Greek economy, ZARIFOPOULOS has designed, developed, installed and maintained, a wide range of integrated Solutions, establishing a leading role, with a large number of installations in Hotels of all categories throughout Greece.
In a dynamic growth path and always following international technology developments and state-of-the-art market requirements, ZARIFOPOULOS has been offering for almost 50 years reliable and advanced solutions for the hotel sector, contributing to the excellent Greek hospitality experience.
Applying niche technologies, with the experience and know-how of our expert qualified personnel, and with a track record guaranteeing to meet the demands of any hotel facility, at ZARIFOPOULOS we strive to fully satisfy our Clients, ensuring comfort and security.
GUARANTEE OF SAFETY AND CONFIDENCE
With solutions and services offering optimum energy performance, reduction of operational costs and always respecting people and the environment, our Company's presence in the hotel sector has been marked by installations in numerous hotels, from the most emblematic ones to small hotel units.
We invest in the development of new innovative products, in collaboration with the leading global manufacturers, equipping hotel units of any size, with an integrated range of security and energy control systems.
The vision and aim of ZARIFOPOULOS is to fully satisfy all modern requirements in the hospitality sector, through solutions that integrate new technologies, responding to Customers' needs in the best possible way.
INTEGRATED AND CONNECTED SYSTEMS
Advanced Fire detection & Suppression systems, Security systems, CCTV surveillance systems, Access Control, Building Controls and Energy Management (BEMS), Remote Control and Central Management, is the "answer" of ZARIFOPOULOS to the big challenges faced by the Greek Hospitality Sector.
Our solution consists of creating Unified Integrated Management Systems, capable of collecting all necessary information by the individual hotel systems in fields of strategic importance, within a common collaborative environment. Such a system can improve the perception of comfort, productivity and safety of the space, whilst reducing the operational cost of a hotel unit.
HOTELS WITH INSTALLED ZARIFOPOULOS SYSTEMS
ATTIKA & CENTRAL GREECE
ACADEMIA OF ATHENS
ATHENAUM INTERCONTINENTAL
ATHENS BC
ATHENS ZAFOLIA
BLEND HOTEL ATHENS
CENTRAL ATHENS
COCO-MAT
CROWNE PLAZA
DIONI HOTEL
DOMOTEL KASTRI
EDEN BEACH RESORT
ELECTRA
ELECTRA PALACE ATHENS
FOR SEASONS ASTIR PALACE
GOLDEN AGE
GOLDEN SUN
GRAND BRETAGNE
GRAND HYATT ATHENS
GRAND RESORT LAGONISI
HILTON ATHENS
HOLIDAY INN
LIFE GALLERY ATHENS
NEW HOTEL
NJV ATHENS PLAZA
NOVOTEL ATHENS
OLYMPIC PALACE
PIRAEUS THEOXENIA
RADISSON BLU PARK
SOFITEL ATHENS AIRPORT
SOMEWERE HOTEL
TAGLI RESORT & SPA
THE ATHENS GATE
THE MARGI
THEOXENIA HOUSE
THEOXENIA PALACE
THERMAE SYLLA SPA & WELLNESS HOTEL
TITANIA
ZINON HOTEL
PELOPONNESE
AMALIA NAFPLION
AMANZOE
AMANZOE VILLA 20
CLUB HOTEL CASINO LOUTRAKI
GRAND OLYMPIC
MESSINI BEACH CLUB
NIKKI BEACH
SEASCAPE
WESTERN GREECE
ΒΥΖΑΝΤΙΝΟ HOTEL
ALDEMAR OLYMPIAN VILLAGE
HELMOS KALAVRITA HOTEL
KALAVRITA CANYON HOTEL & SPA
MAISON GRECQUE HOTEL
MANDOLA ROSA & AQUA PARK
OLYMPIA RIVIERA & AQUA PARK
OLYMPIA RIVIERA THALASSO
PATRAS PALACE HOTEL
PAYLINA BEACH HOTEL
PORTO RIO HOTEL
POSEIDON PALACE
ROBINSON CLUB KYLLINI BEACH
IONIAN ISLANDS
ΑΣΗΜΕΝΙΑ ΑΚΤΗ
ΓΥΑΛΙΣΚΑΡΙ
ΜΟΝ ΡΕΠΟ
ΜΟΝΙΚΑ HOTEL
ΟΔΥΣΣΕΥΣ
ANGSANA CORFU HOTEL
CITY MARINA
CORFU HOLIDAY PALACE
CORFU MARIS HOTEL
ELEON GRAND RESORT & SPA
HOTEL ΝΗΣΙ ΦΑΙΑΚΩΝ
IKOS CORFU
IKOS DASSIA
IMBERIAL
KONTOKALI BAY RESORT AND SPA
LOUIS GRAND HOTEL GLYFADA CORFU
MEΕTING POINT HOTEL
SIDARI WATER PARK HOTEL
EPIRUS & THESSALY
AMARYLLIS LUXURY GUEST HOUSE
ANEMOLIA RESORT & SPA
DOMOTEL XENIA VOLOU
LAISTA MOUNTAIN RESORT
MARGARONA ROYAL HOTEL
NEILSON RETREAT BEACHCLUB
NOSTOS VILLAGE HOLIDAY RESORT
ORIANA HOTEL
PERDIKA RESORT
SALVATOR HOTEL VILLAS & SPA
SAZ CITY LIFE HOTEL
SIVOTA DIAMOND SPA RESORT
SIVOTA SEASCAPE LUXURY VILLAS & RESIDENCES
THEASIS PARAMYTHIA HOTEL
CENTRAL MACEDONIA
ΑVALON
ΜΕΤ HOTEL
ANATOLIA HOTEL THESSALONIKI
ANTIGON LUXURY BOUTIQUE HOTEL
ATHINA AIRPORT HOTEL
ATHOS PALACE HOTEL
AVALON HOTEL
ELECTRA PALACE THESSALONIKI
GERAKINA BEACH
GRAND HOTEL
HOLIDAY INN THESSALONIKI
IKOS OLIVIA
LAZART HOTEL
MACEDONIA PALACE
PORTO CARRAS MELITON
PORTO CARRAS SITHONIA
PORTO CARRAS VILLA GALINI
POSSIDI HOLIDAYS RESORT & SUITES
REGENCY KAZINO
SANI RESORT
EASTERN MACEDONIA & THRACE
1000 COLORS HOTEL
CASINO XANTHI
HATZOUDIS LUXURY SUITES
THASSOS GRAND RESORT
CRETE
ΑΦΡΟΔΙΤΗ BEACH
ΔΙΑΜΕΡΙΣΜΑΤΑ ΚΟΥΤΟΥΛΟΥΦΑΡΙ
ΚΑΛΥΨΩ
AGAPI BEACH
ALBATROS SPA & RESORT HOTEL
AMOUNDA BAY
ANASTASIA BEACH
ANEMOS LUXURY GRAND RESORT
ARINA SAND
ASTORIA
ATHINA PALACE
ATTLANTICA CALDERA PALACE
BLUE PALLACE
CANDIA MARIS
CENTRAL HOTEL
COSTA MARE
CRETA VILLAGE
CRETAN MALIA PARK
ELOUNDA BAY
ELOUNDA BEACH
ELOUNDA MARE
ELYSIUM
FILION
FODELE BEACH
GLAROS BEACH HOTEL
IBIS HOTEL
IBISCOS
IMPERIAL
KALIMERA KRITI HOTEL & VILLAGE RESORT
KNOSSOS BEACH
KNOSSOS ROYAL
LYDIA
LYTTOS BEACH
MALIA BEACH
MARIN DREAM
MIKRI POLI
MINOS PALACE
MYRIA
MYST BOUTIQUE HOTEL
OLEA
OLYMPIC
PENINSULA
PORTO ELOUNDA
RADISSON BLUE
ROYAL
ROYAL BLUE
ROYAL MARE
ST NICOLAS
SUNWING
VENUS
VILLAGE HEIGHTS
ZORBAS VILLAGE
SOUTH AEGEAN
ACHILLION HOTEL APARTMENTS
AEGEAN HOUSES
AFANDOU BEACH RESORT
AGLA HOTEL RHODES
AKTI HELONA
ALDEMAR PARADISE VILLAGE
ALEX BEACH HOTEL & BUNGALOWS
ALEXANDRA BEACH
ALIMOUNDA MARE HOTEL
AMADA COLOSSOS RESORT
AMATHUS BEACH HOTEL
ANGELA HOTEL SUITES
ANNAPOLIS INN
AQUAGRAND LUXURY RESORT HOTEL
AQUARIUM VIEW HOTEL
ASTIR ODYSSEYS
ASTRON SUITES
ATLANTICA HOLIDAY VILLAGE KOS
ATLANTICA HOLIDAY VILLAGE RHODES
ATLANTICA IMPERIAL RESORT AND SPA
ATLANTICA MIKRI POLI HOTEL
ATLANTICA SENSATORI RESORT
ATLANTICA TROPICAL SUITES HOTEL
ATRIUM PALACE THALASSO SPA RESORT & VILLAS
AUBERGE KALOPETRI
BELAIR BEACH HOTEL
BELLEVUE SUITES
BEST WESTERN PLAZA HOTEL
BLUE HORIZON HOTEL
BLUE LAGOON CITY
BLUE LAGOON RESORT
BLUE LAGOON VILLAGE
BLUE SEA BEACH RESORT
BLUE SEA HOTELS AE
BLUE SKY CITY BEACH HOTEL
BOUTIQUE 5 HOTEL & SPA
CACTUS BEACH HOTEL
CARAVIA HOTEL
CARDA BEACH HOTEL
CASA COOK KOS
CITY CENTER HOTEL
CLEOPATRA CLASSIC
COMFORT HOTEL RHODES
CONSTANTIN HOTEL RHODES
CONTINENTAL HOTEL RHODES
CORALI
COSMOPOLITAN HOTEL
COSTA LINDIA BEACH
D' ANDREA MARE BEACH HOTEL
DESSOLE OLYMPOS BEACH RESORT
DIMITRA BEACH RESORT KOS
DIONYSOS HOTEL
EDEN ROC RESORT HOTEL
ELECTRA PALACE RHODES
ELIES RESORT
ELPIDA BEACH STUDIOS & APARTMENTS
ELYSIUM RESORT & SPA
EUROPA HOTEL
EVI HOTEL RHODES
FINAS HOTEL & APARTMENTS
FORUM BEACH HOTEL/DODECA SEA RESORT
GAIA GARDEN
GAIA PALACE
GAIA ROYAL
GAIA VILLAGE
GALAXIAS HOTEL RHODES
GRAND BLUE HOTEL
GRECOTEL KOS IMPERIAL
GRECOTEL RHODOS ROYAL
HORIZON BEACH RESORT
HOTEL AHILLEAS
HOTEL ATHINA
HOTEL ATLANTIS
HOTEL IDEAL
HOTEL KOS
HOTEL MEDITERRANEAN
IALYSSOS BAY HOTEL
IBISCUS HOTEL RHODES
IRENE PALACE BEACH RESORT
IRINNA HOTEL APARTMENTS
ISLAND BLUE HOTEL
KALITHEA MARE PALACE
KAMARI BAY
KIPRIOTIS AQUA LAND
KIPRIOTIS HIPPOCRATES
KIPRIOTIS HOTEL RHODES
KIPRIOTIS MARIS SUITES
KIPRIOTIS PANORAMA AQUALAND
KIPRIOTIS PANORAMA HOTEL & SUITES
KIPRIOTIS VILLAGE RESORT
KOKALAKIS
KOLYMBIA STAR
KOS AKTIS
KOS HOLIDAY VILLAGE
KOSTA PALACE
KOUKOS RHODIAN GUESTHOUSE
KOUROS HOTEL PALACE
KRESTEN PALACE & KRESTEN ROYAL HOTELS
KRIS MARI
LA MARQUISE LUXURY RESORT COMPLEX
LABRANDA KIOTARI BAY
LABRANDA MARINE AQUAPARK
LABRANDA MIRALUNA VILLAGE
LAKITIRA RESORT
LAKITIRA SUITES
LANGO DESIGN HOTEL & SPA
LINDIA THALASSA RESORT
LINDIAN JEWEL HOTEL AND VILLAS
LINDIAN VILLAGE
LINDOS BAY RESORT & SPA
LINDOS BLU, LUXURY HOTEL & SUITES
LINDOS IMPERIAL RESORT & SPA
LINDOS MARE RESORT
LINDOS PRINCESS BEACH HOTEL
LINDOS ROYAL RESORT
LINDOS SUN HOTEL
LINDOS VILLAGE RESORT AND SPA
LINDOS WHITE HOTEL & SUITES
LOMENIZ HOTEL RHODES
LYDIA
LYDIA MARIS RESORT & SPA
MAGIC LIFE PLIMMIRI BY ATLANTICA
MARIETTE HOTEL APARTMENTS
MARMARI BEACH
MARMARI PALACE
MASTICHARI BAY HOTEL
MAYIA EXCLUSIVE RESORT & SPA
MEGISTI HOTEL
MELENOS LINDOS EXCLUSIVE SUITES
MICHEL
MICHELANGELO RESORT & SPA
MIKRI POLI
MIRAGE APARTHOTEL
MORE MENI
NATHALIE HOTEL
NATURA PARK VILLAGE
NEPTUNES HOTELS
NIKOS TAKIS FASHION HOTEL
OASIS HOTEL
OCEANIS BEACH & SPA
OCEANIS HOTEL TINOS
OKTOBER HOTEL RHODES
OLYMPIC PALACE RESORT HOTEL
ORION HOTEL
PALAZZO DEL MARE
PALEOS HOTEL APARTMENTS
PALLADIUM
PARTHENON HOTEL RHODES
PATMOS AKTIS
PEFKI ISLANDS RESORT
PEGASOS BEACH HOTEL
PELOPAS RESORT
PERIDIS FAMILY RESORT
PLATANISTA HOTEL
PORTO BELLO BEACH
PORTO BELLO ROYAL
PRINCESS ANDRIANA RESORT & SPA
PRINCESS SUN HOTEL
RHODOS HORIZON RESORT
ROBINSON CLUB
RODIAN GALLERY HOTEL APARTMENTS
RODOS PALACE HOTEL
RODOS PALLADIUM
RODOS PRINCESS BEACH HOTEL
SAKALIS INN
SANTO MARIS
SANTORINI IMAGE HOTEL
SAVOY HOTEL RHODES
SENTIDO IXIAN GRAND
SENTIDO PORT ROYAL VILLAS & SPA
SHERATON RHODES RESORT
SIRENE BEACH
SMARTLINE COSMOPOLITAN HOTEL
SOVEREING BEACH HOTEL
SPERVERI BOUTIQUE HOTEL
ST CONSTANTAIN
SUMMERLAND HOTEL
SUN BEACH RESORT COMPLEX
SUN PALACE HOTEL
SUNPRIME MIRAMARE BEACH
SUNRISE HOTEL
SUNSHINE RHODES HOTEL
SUNWING KALLITHEA BEACH
THE RESIDENCE
TIGAKI BEACH
TROPICAL SOL
VILLAS DUC HOTEL APARTMENTS RHODES
VIRGINIA HOTEL RHODES
WHITE ROCK OF KOS
ZEUS
ZORBAS BEACH