Design, development and installation of Fire protection systems (automatic fire detection, gas detection and suppression systems), Security systems, CCTV as well as a Energy Management system (RMS, BEMS) at Somewhere Boutique Hotel in Vouliagmeni.
Somewhere Boutique Hotel is situated at the heart of the Athens Riviera, in the beautiful Vouliagmeni beach. It includes 11 elegant well-designed suites with modern décor, an outdoor pool, a restaurant, a conference room and a fitness area.
Fire Detection – Suppression: In the main hotel building a central addressable 2-branch panel has been installed with 120 peripheral devices of NOTIFIER UK, with EN54-2, EN54-4 and EN54-13 certification. The central panel is connected with the local addressable panels of the local fire detection-suppression systems.
In particular, local FM200 suppression systems have been installed in the Data Room and Aerosol in the M&E plantroom areas of the hotel. Also, 2 local Wet Chemical suppression systems have been installed in the Kitchen areas. Finally, portable fire extinguishers and fire hoses have been installed in line with the active fire protection design.
Security Systems (CCTV – Access Control): In the main hotel building a central Galaxy 96-zone alarm system has been installed with a Honeywell NetAxs access control in the communal areas (10 controlled ports). In the communal areas, a Honeywell IP CCTV with high resolution cameras has also been installed.
Building Energy Management System (BEMS): For the management of the central M&E installations of the hotel (chillers, boilers, central air conditioning, domestic hot water etc.) a state-of-the-art BEMS system of Honeywell has been installed. The system is of open architecture, freely programmable, fully expandable and it can be connected and interact with any equipment installed in the building.
Room Management System (RMS): At room level, the Inncom system of Honeywell has been installed, which is a well-established and popular control system for the hotel sector. The smart Inncom thermostat is connected with the air-conditioning, the lighting, the curtains/awnings, the locks and through presence detection it automates all operations, achieving energy savings and optimal comfort conditions for the client.
All above systems, combined with the reservation systems interface, offer an integrated environment, which can in an automated way run smart scenarios significantly improving the comfort conditions for the client (e.g. pre-cooling based on the expected arrival time and lighting Welcome scene), offering energy saving as well as better planning of maintenance and cleaning services.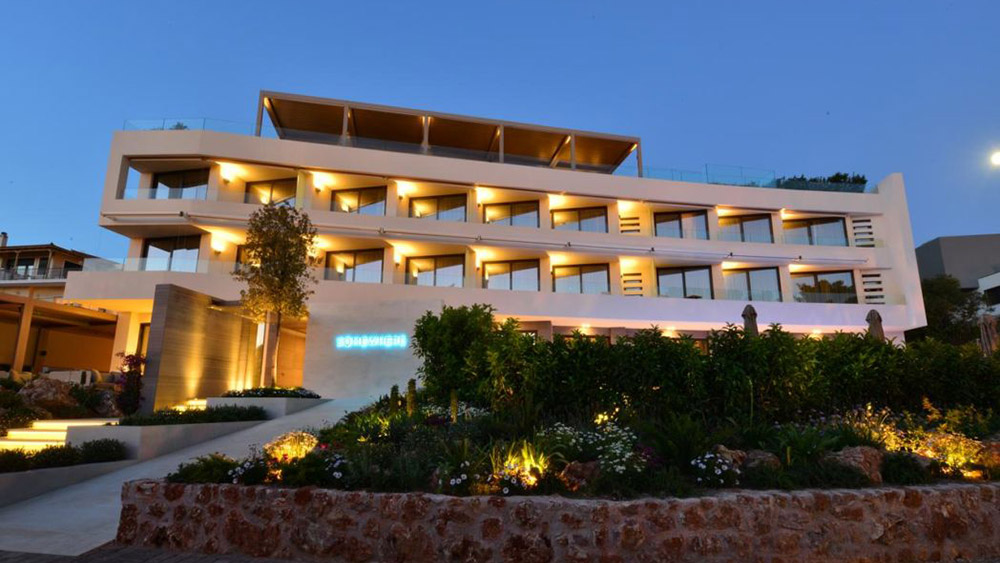 Project engineer: Nick Siagas