Fire Detection, Gas Detection, Extinguishing, Security and CCTV systems supply, installation and delivery in full operation, in a new seven-storey state-of-the-art commercial building on 119, Alexandras Avenue with three basements, as an extension of the existing building.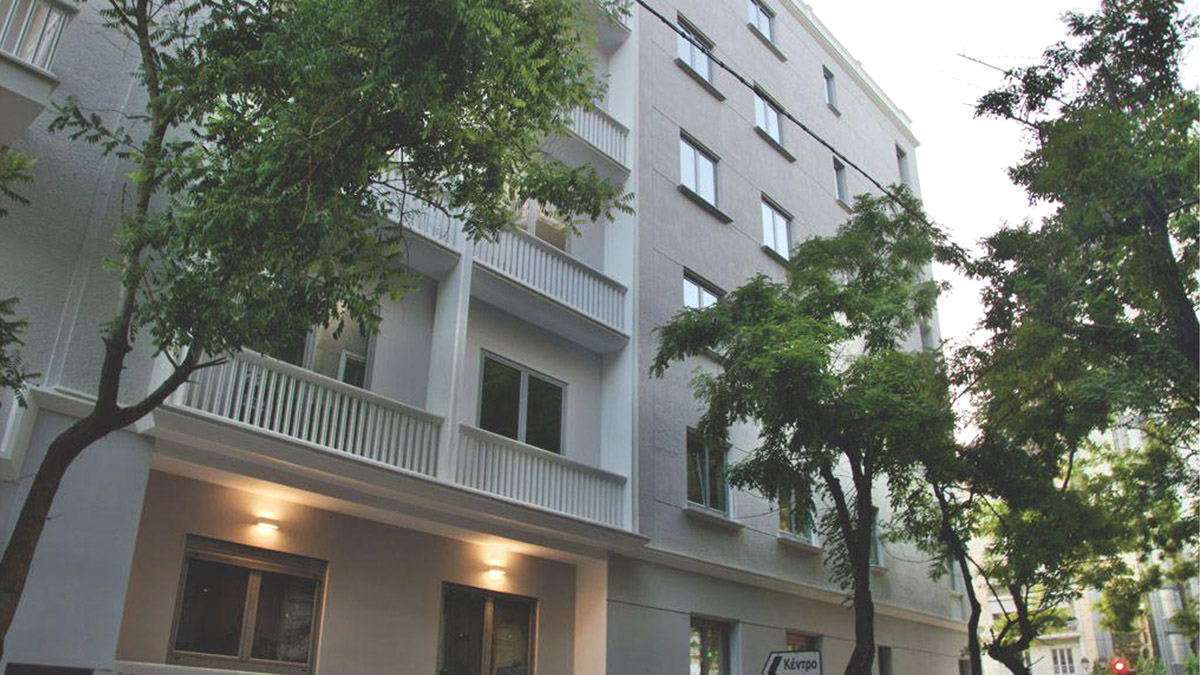 Design and construction works started in mid-March 2019, as the plot of an area of 1,000 sq.m. had been transferred to Ten Brinke Group Hellas portfolio. The building is being constructed under the most modern terms and is also Gold LEED certified. In a total area of 9,424 sq.m. the building consists of 3 underground levels of 2,683 sq.m. with parking spaces, the ground floor and seven office space floors of 6,740 sq.m.
The systems delivered to EMD Constructions; the building construction responsible, in full operation were: an addressable fire detection system for the common areas, six autonomous centralized addressable fire detection systems for equal number of properties, three aerosol extinguishing systems for all mechanical rooms, two addressable Carbon Dioxide (CO2) Detection systems for all underground parking spaces, a ΕΝ54 certified public announcement system integrated with the fire extinguishing systems, a building security system with built-in access control units to critical areas, as well as a monitoring and recording system (CCTV).
Building common areas Security System: The security system consists of Inim 10100L central control panel, which is extended through special units/cards, located in several central points of building's common areas.
The system controls critical areas and are integrated to the central Security system.
The system can be easily expanded in the long run, in order to incorporate each floor's separate offices additional security systems.
EN54 Fire Detection Systems: Common areas fire detection system consists of a two-loop addressable Smartloop2080/G control panel of the Italian company Inim, which monitors 93 addressable devices including photoelectric and heat differential detectors, pushbuttons, beacons as well as extinguishing surveillance units.
In addition, on each of the six levels (from ground floor to the fifth floor) there are six Inim Smartloop1010/G addressable fire detection control panels, which monitor another 116 peripheral devices such as photoelectric and heat differential detectors, buttons, beacons as well as bulkhead and extinguishing surveillance units divided in the each control panel.
The utility control panel monitors all other fire detection panels, CO detection systems and extinguishing systems and can automatically inform HERMES Alarm Receiving Centre; a Zarifopoulos Group member.
Extinguishing Systems: The three Extinguishing systems were installed in all electromechanical spaces of the building; Low and Medium Voltage areas and E/M areas. The systems consist of aerosol modules, which work with Kentec SigmaXT local type panels; one for each system.
Each extinguishing control panel monitors the respective space through a photoelectric and heat differential detector and depending on the occasion, countdown process for aerosol generators' activation begins or not. In each Extinguishing System there is an internal beacon, a bell and a 'Stop Gas' outside the space light signal for the audiovisual notification in case of a fire activation incident.
Each panel is accompanied by a manual fire extinguishing button and a command cancel switch. Each fire extinguishing system can also inform utility fire detection control panel for a possible fire incident (alarm-prealarm) or for a technical error.
Carbon Monoxide (CO) Detection Systems: The building is equipped with two addressable CO detection systems with Ados Flexados 914 Lon type central panels. One of the two panels, monitors 7 addressable detectors on the second and third basement, whilst the second, monitors 3 detectors on the first basement. A 0-300ppm concentration can be detected.
In case the concentration exceeds beyond normal limits, an alarm incident is recorded with immediate ignition of the warning signs and sirens, in order for those present within the parking spaces to be warned and informed to evacuate the space. The systems transmit the incident to the fire detection control panel and consequently to the alarm system itself.
EN54 Public Announcment System: This system consists of a four-zone Inim PAW4504-V type central unit, which is EN54-16 and EN54-4 certified and capable of cooperating with EN54 certified fire detection systems. In case of fire, the system has the ability to transmit automated messages for the immediate and organized evacuation of the building.
It consists of 19 wall-mounted speakers and 27 recessed in drop ceilings ones. These speakers are connected to the central unit and are activated depending on the zone to which they are connected with. It is possible to transmit different messages in to different areas depending on circumstances. In addition, administrators can speak directly and/or transmit audio messages through two different notification stations. The system can also play music through an external storage unit.
Surveillance and Camera Recording System (CCTV): Hikvision surveillance system consists of multiple dome bullet type cameras, installed in ideal locations for the optimal surveillance of the building.
The system can be managed via local network from a PC, as well as remotely via the internet by additional users (via smartphones, tablets etc). Finally, the CCTV system can be also monitored and managed by Ermis Central Monitoring Station;
• Supervising engineer: George Stratakis