Design, development and installation of Fire protection systems (automatic fire detection, gas detection and suppression systems), Security systems, CCTV as well as a complete Energy Management system (RMS, BEMS, KNX, Energy Analytics) at Angsana Corfu Hotel.
Angsana Corfu is located 12 km south of the city of Corfu, close to the picturesque village of Benitses. It comprises 199 rooms and 40 villas, some with a private pool. It includes extensive communal facilities (central restaurants, reception) whilst its facilities include the Angsana Spa, Kids Club as well as corporate and social function rooms.
Fire Detection – Suppression: In the main hotel building a central addressable 20-branch panel has been installed with approx. 1500 peripheral devices of Advanced Electronics, with EN54-2, EN54-4 and EN54-13 certification. The central panel is connected in a closed loop through optical fibre with the local addressable panels of the bungalows – of the same manufacturer – so as to operate an integrated Fire detection and monitoring system.
In the hotel, local NOVEC fire suppression systems have been installed in the Data Room and CO2 and Aerosol in the M&E plantroom areas. Also, 11 local Wet Chemical suppression systems have been installed in the Kitchen areas.
All systems are monitored through the central Fire detection panel. The selected fire detection system integrates False Alarm Management routines, specifically designed for the management of alarms in hotels and the avoidance of false alarms, special management for preventing panic incidents, investigation delays etc.
Security Systems (CCTV – Access Control): In the main hotel building a central IP PoE access control system of DDS Security has been installed in the communal areas (30 controlled ports). The system is DESFIRE EV1 8K, 13.56MHZ encoded, so as to offer protection against duplication of access control cards. In the communal areas, a HIKVISION IP CCTV with 60 high resolution cameras has also been installed. The digital systems are monitored by the hotel Control Room through central management and communication software.
Integrated Energy Management System
Room Management System (RMS): At room level, the Inncom system of Honeywell has been installed, which is a well-established and popular control system for the hotel sector. The smart Inncom thermostat is connected with the air-conditioning, the lighting, the curtains/awnings, the locks and through presence detection it automates all operations, achieving energy savings and optimal comfort conditions for the client.
Building Energy Management System (BEMS): For the management of the central M&E installations of the hotel (chillers, boilers, central air conditioning, domestic hot water etc.) a state-of-the-art BEMS system of Honeywell has been installed. The system is of open architecture, freely programmable, fully expandable and it can be connected and interact with any system installed in the building.
Lighting Control System (KNX): Through the KNX system of ABB, management of the lighting in communal areas is achieved.
Energy Analytics: Integrated system for monitoring and analysis of the energy consumption with capabilities of exporting automated reports and sending alarm messages in case thresholds are exceeded.
All above systems are linked within a collaborative platform improving strategic decision making, allowing performance optimization and energy saving, whilst integrating Data Analytics και Business Intelligence functions.
The platform allows the interaction between systems (Cross Application functions) and is able to manage large quantities of data (Big Data) from a range of different sources (ms excel, SQL, OPC, 3rd party software) creating hierarchies, so as to facilitate prompt and effective access to the hotel operations.
All above systems, combined with the reservation systems interface, offer an integrated environment, which can in an automated way run smart scenarios significantly improving the comfort conditions for the client (e.g. pre-cooling based on the expected arrival time and lighting Welcome scene), offering energy saving as well as better planning of maintenance and cleaning services.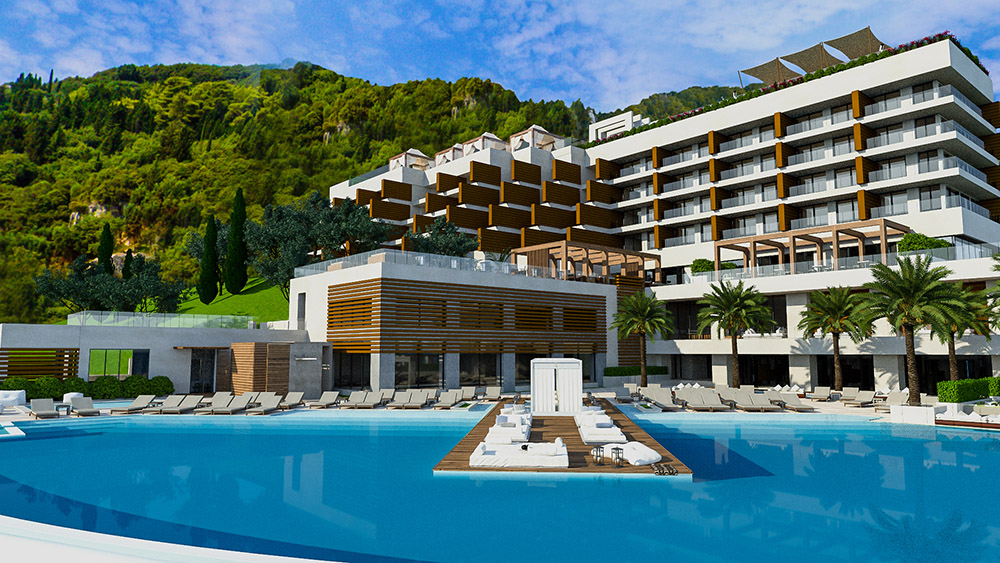 Supervising Engineers: Christos Tzoutzakis, Konstantinos Kandakis, Panagiotis Voulgaris